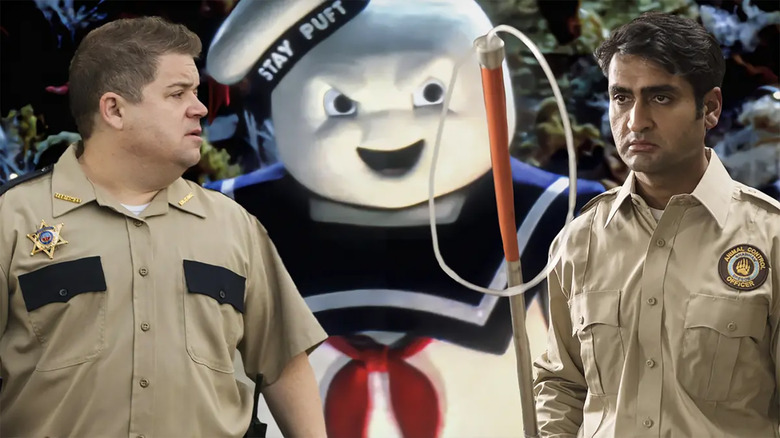 In 2021, "Ghostbusters: Afterlife" brought back the paranormal comedy franchise with a whole new perspective. Director Jason Reitman took over the reins from his filmmaker father Ivan Reitman (rest in peace), and he gave fans a legacy-quel that focused on Mckenna Grace and Finn Wolfhard as the grandchildren of Egon Spengler as they learned about the legacy of their grandfather and the history of the original Ghostbusters team. But this time, all the spooky action unfolded in a desolate Oklahoma town in the middle of nowhere.
Despite the passing of Harold Ramis, "Afterlife" brought back a computer generated spirit version of Egon alongside Bill Murray, Dan Aykroyd, and Ernie Hudson as Peter Venkman, Ray Stantz, and Winston Zeddemore. The new generation of Ghostbusters met the old guard, and they joined forces to defeat yet another reincarnation of Gozer the Gozerian. But that was just the beginning.
After the success of "Ghostbusters: Afterlife," Sony Pictures is keeping the franchise's new positron collider going strong with a sequel that has already started production. Rather than sticking around Oklahoma, the franchise is returning to its roots in New York City. Alongside returning cast members Mckenna Grace, Finn Wolfhard, Carrie Coon and Paul Rudd, Deadline has reported that the sequel will be ensnaring some famous nerds in its proton stream: Patton Oswalt and Kumail Nanjiani. Frankly, we couldn't ask for a better pair of new cast members.
They're Just Like Us!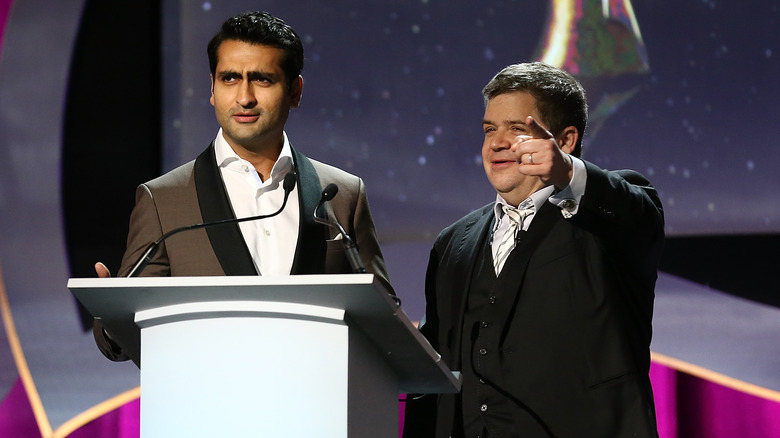 Patton Oswalt and Kumail Nanjiani have been proudly wearing their geekiness on their sleeves for years. Their stand-up comedy alone is full of nerdy bits, including Oswalt's famous take on the "Star Wars" prequels, and Nanjiani's observation about the lack of math teachers at Hogwarts School of Witchcraft and Wizardry.
Oswalt and Nanjiani have even brought their hardcore nerdity into roles with them. How could we forget Oswalt's famous filibuster in "Parks and Recreation" that bridges the Marvel Cinematic Universe and the "Star Wars" universe long before the multiverse was unleashed in film or TV? Nanjiani's love for pop culture was proudly on display in "The Big Sick," where he adapted the true story of falling in love with his real life wife Emily V. Gordon, which included wooing her with a screening of the 1920 German silent horror film "The Cabinet of Dr. Caligari," a favorite among cinema geeks.
This is exactly why it was so exciting to see Nanjiani and Oswalt recently enter the Marvel Cinematic Universe on the big screen in "Eternals."
In the Marvel Studios movie that some have deemed a misfire, Nanjiani played Kingo, one of the members of the titular cosmic superhero team. The actor famously got totally ripped for the role so he could flex his super-powered muscles alongside the likes of Richard Madden ("Game of Thrones") and Angelina Jolie. Eventually, one of the credits scenes for "Eternals" introduced Oswalt as the voice of the computer generated character Pip the Troll, alongside the debut of Harry Styles as Eros. However, since "Eternals" didn't exactly turn out to be a hit for Marvel Studios, it doesn't seem like we'll see those characters returning to the MCU anytime soon. Even Oswalt's turn as the stop-motion animated MODOK on Hulu is officially over.
If we're being honest, both Nanjiani and Oswalt are probably better off playing in the "Ghostbusters" sandbox that they've officially landed in.
Who Ya Gonna Call?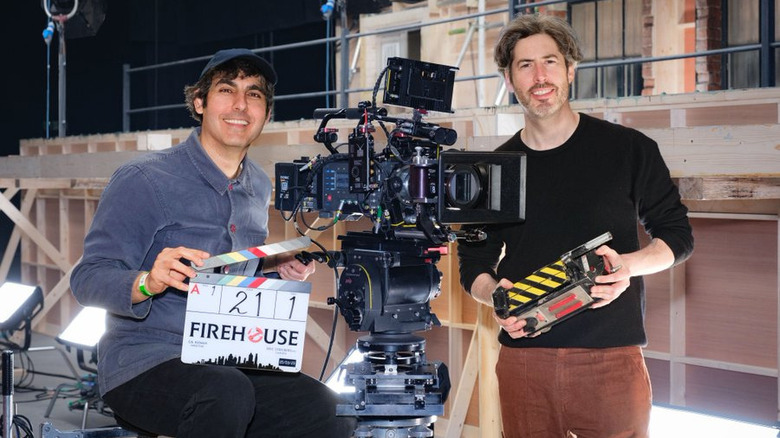 "Ghostbusters" is regarded as one of the greatest comedies of all time, arguably one of the best films in general, but as a longtime, diehard fan, my opinion is certainly biased. With a high concept style that blends seamlessly with the sarcastic, dry sense of humor of comedy legends, many have tried to emulate the film's formula, but only "Men in Black" has every really come close to landing it. Even "Ghostbusters: Afterlife" didn't lean into that territory, opting to give us something that was more akin to an Amblin movie putting on a "Ghostbusters" costume at the end.
But the addition of comedic powerhouses and beloved nerds like Patton Oswalt and Kumail Nanjiani would seem to signify a turn back towards the comedic side of things. Now that we've gotten the nostalgic return of the original Ghostbusters and a touching tribute to Harold Ramis on film, the franchise can perhaps dig back into what made the original movie so great to begin with. Whether Nanjiani and Oswalt end up playing new Ghostbusters recruits (which would be the best possible outcome), pesky government officials who get in their way (Oswalt could be perfectly smarmy and sarcastic here), or helpless NYC citizens who are dealing with their own paranormal problems (you can just hear Nanjiani griping about the inconvenience of a ghost sliming up his video game collection), these two are exactly the kind of talents that this film series needs.
Let's just hope that the sequel to "Ghostbusters: Afterlife" is able to usher in a new era of the franchise that doesn't rely on too much nostalgia. Though "Afterlife" had plenty of admirable qualities, this longtime fan thought it was weighed down with too many winks and nods to the original film's legacy. It's time for something fresh, and I hope director Gil Kenan (seen above) is the right man for the job. Don't we all want bustin' to feel good again?
Read this next: The 14 Best Bill Murray Movies Ranked
The post Why Patton Oswalt and Kumail Nanjiani Are Perfect Additions to the Ghostbusters Universe appeared first on /Film.