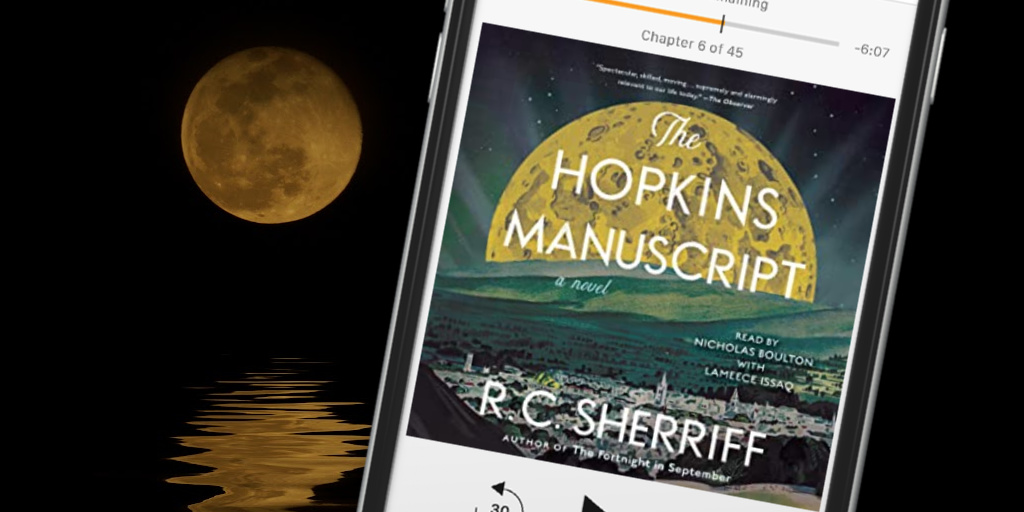 The Hopkins Manuscript by R. C. Sherriff is a classic novel originally published in 1939. I grabbed this end of days audiobook in part because of narrator Nicholas Boulton. I stayed for the gripping, amusing & touching story that unfolded. Grab a cup of tea and travel to a small English village Bantam, where Edgar resides….I promise you won't regret it.
The Hopkins Manuscript
by
R.C. Sherriff
Narrator:
Nicholas Boulton
,
Lameece Issaq
Length: 11 hours and 35 minutes
Genres:
Science Fiction
Source:
Publisher
Purchase*:
Audible
*affiliate
Narration: 5 cups Speed: 1.5x
For fans of the popular and award-winning Netflix movie Don't Look Up, a prescient, rediscovered speculative novel about how a small English village prepares for the end of the world.

Edgar Hopkins is a retired math teacher in his mid-fifties with a strong sense of self-importance, whose greatest pride in life is winning poultry breeding contests. When not meticulously caring for his Bantam, Edgar is an active member of the British Lunar Society. Thanks to that affiliation, Edgar becomes one of the first people to learn the moon is on a collision course, headed towards Earth.

Members of the society are sworn to secrecy but eventually the moon looms so large in the sky that the government can no longer deny the truth. It's during these final days that Edgar befriends two young siblings and writes what he calls The Hopkins Manuscript—a testimony juxtaposing the ordinary and extraordinary as Edgar and the villagers dig trenches and play cricket before the end of days.

First published in 1939, as the world was teetering on the brink of global war, R.C. Sherriff's classic speculative novel is a timely and powerful warning from the past that captures the breadth of human nature in all its complexity.
The Hopkins Manuscript was found one thousand years after it was written. The author was Edgar Hopkins, a retired math teacher in his mid-fifties. He professed to us he wanted to be a writer and thus penned this manuscript. In the beginning of our story, Edgar has an air of self importance about him. It makes him sound rather pompous, but I quickly came to enjoy his company.
Edgar lives in Bantam, a rural English town where he is a member of the Lunar Society. Because of his membership, he becomes one of the first to learn that the moon is on a direct collision course with the earth and scientist know the impact date. Towns are ordered to construct bunkers and given specific specifications. The villagers are told it's to prepare for war, but as the moon looms ever closer, the government is forced to confess.
The story is split into two parts. Before the moon collision and after the moon hits. While I am not at all sure of the accuracy of a moon collision, thru Edgar, Sherriff's portrayal of humanity's reaction is poignant and realistic.
I loved the characters and the rebuilding. We witness Edgar form a sort of family with survivors as they work to feed themselves and make life easier. We see other towns open trading and witness the country getting back on their feet. Indeed, a little utopia forms, that is until the world powers jockey for the moon.
The Hopkins Manuscript had a wonderful flow and has me looking to read more of Sherriff's works. It felt relevant and present. It offered a fascinating look into human nature.
Nicholas Boulton and Lameece Issaq, did a wonderful job of bringing this story and its characters to life. Indeed, I could listen to Boulton every day and never grow tired of his smooth, addictive tone. The story is well written and lends itself perfectly to the audio format.
Whether you are looking to meet a classic literature challenge or want to dive into a well-written science fiction, I encourage you to download and listen to The Hopkins Manuscript.
About R.C. Sherriff

Robert Cedric Sherriff was an English writer best known for his play Journey's End which was based on his experiences as a Captain in World War I. He wrote several plays, novels, and screenplays, and was nominated for an Academy Award for Best Writing (Adapted Screenplay) and two British Academy of Film and Television Arts.
About Nicholas Boulton
Born in Gibraltar, and educated in Ireland and England, Nicholas studied acting at the Guildhall School of Music And Drama in London. His extensive career has encompassed stage, screen, and radio. He has played leading and major supporting roles for many British stage productions including for the Royal Shakespeare Company, the Almeida Theatre, and the Royal National Theatre. Winner of the BBC Radio Carleton Hobbs award in 1993 he is regularly heard in BBC Radio drama productions, with more than 100 credits to his name. He is also a well known voice in the world of video games - he is the voice of Garrett Hawke (lead) in Bioware's Dragon Age 2, and has featured strongly in such popular games as Star Wars Battlefront 2, Assassin's Creed, Mass Effect, Hellblade: Senua's Sacrifice, Final Fantasy XIV, Hitman, Little Big Planet, Fable, Killzone, and many more. His other skills and interests include playing blues harmonica and slide-guitar, stilt-walking, scuba-diving, and skiing. Nicholas is a keen kite-surfer and a skilled horseman and swordsman.

Stay Caffeinated!
Never miss a post by adding Caffeinated to your Inbox
Reading this book contributed to these challenges: