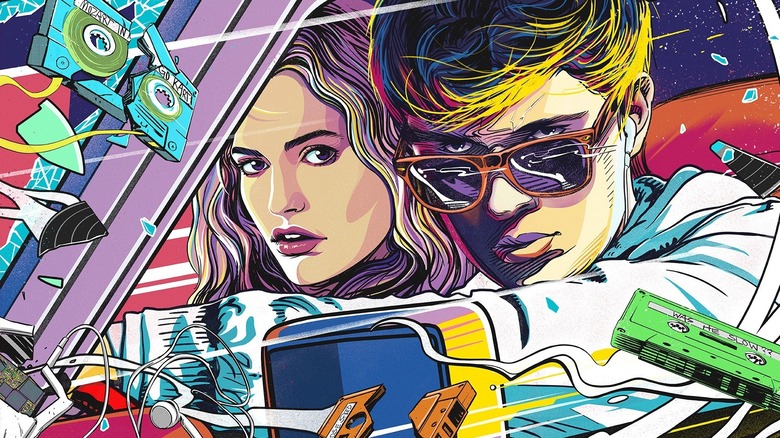 Edgar Wright somewhat quietly asserted himself as one of this generation's most interesting and talented filmmakers in the early 2000s with movies like "Shaun of the Dead" and "Hot Fuzz." It's pretty easy to argue that the man has a perfect track record, with even his "worst" movie (certainly changing dependent on the viewer) still ranking as pretty damn good. 
Wright made himself known to the masses in 2017 with his smash, breakout hit "Baby Driver," an absolute crowd-pleaser that was dripping with style and did something few movies can do in the modern era: It became the rare mid-budget movie to find a huge audience and not just survive, but thrive. And it may be one of the last examples of a dying breed. 
With Wright's latest "Last Night In Soho" currently in theaters, we're looking back at how "Baby Driver" managed to become a straight-up miracle in the Hollywood landscape.
The Movie: Baby Driver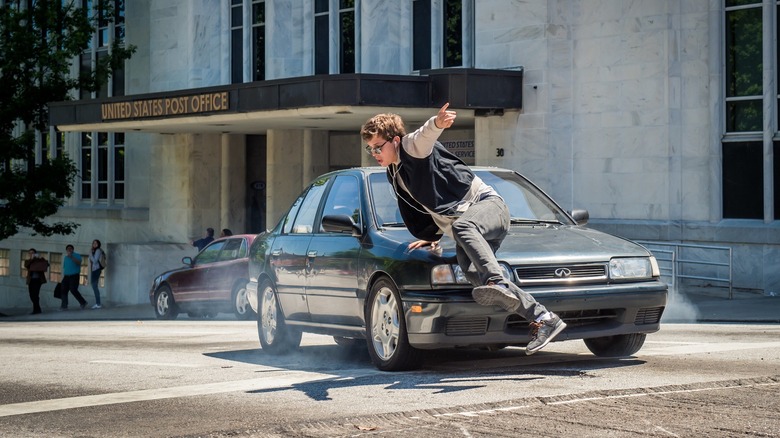 Despite being Wright's sixth feature film, "Baby Driver" was a passion project for the filmmaker that dates back to the mid-'90s. It just took a very long time for the business to afford Wright the opportunity to make this stylish, unique, crime dramedy. Oddly enough, after years in development, it was Wright's departure from Marvel's "Ant-Man," which he had been working on for years as well, that opened the window for "Baby Driver" to finally happen.
Dating back to its earliest days, Wright envisioned choreographing heist and getaway scenes around specific songs. "Bellbottoms," the movie's opening number, actually dates back to the conception of the idea and ended up making it into the final version. For those who may need a little refresher, here's the film's synopsis:
Baby (ANSEL ELGORT) -- a talented, young getaway driver -- relies on the beat of his personal soundtrack to be the best in the game. When he meets the girl of his dreams (LILY JAMES), Baby sees a chance to ditch his criminal life and make a clean getaway. But after being coerced into working for a crime boss (KEVIN SPACEY), he must face the music when a doomed heist threatens his life, love and freedom.
Filming on "Baby Driver" ultimately took place from February to May in 2016, with Wright working from a budget of $34 million. Considering a cast that includes Jamie Foxx and Jon Hamm, it's impressive the movie didn't cost more. The problem oftentimes in Hollywood is that far more must be spent to market a movie with this sort of price tag, making a seemingly inexpensive movie a suddenly expensive one. But fate was on this movie's side and, beginning with a buzzy premiere at SXSW in March of 2017, Baby and his earbuds began speeding down a road paved with every type of success a film can hope to achieve. So much so that we may get a sequel at some point.
The Financial Journey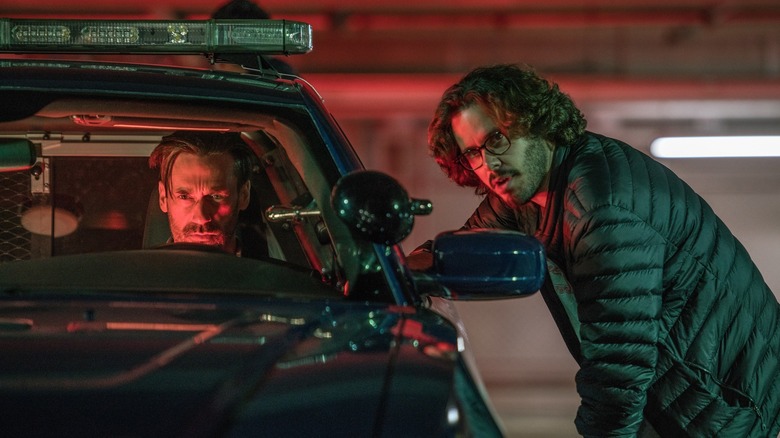 "Baby Driver" was released by Sony Pictures on June 28, 2017, which was something of a gamble given that it was right in the heart of the summer movie season. Typically, this is reserved for the biggest of the big blockbusters, while everything else fights for the leftovers. In this case, the movie had so much mass appeal (despite not having an "Ant-Man" budget) that it proved to be the right call. "Baby Driver" earned a super solid $20.5 million on its opening weekend, and $29 million over the full, longer Fourth of July weekend. But the key to this movie's success was its impressive holdover from week-to-week.
Typically, a big movie will drop more than 50 percent in its second weekend. Not "Baby Driver." It fell less than 37 percent, taking in $13 million. That trend continued for most of the movie's 16-week theatrical run. Ultimately, it pulled in $107.8 million domestically without ever taking the top spot at the box office. Truly remarkable. Internationally it did equally as well, earning $119.1 million for a grand total of $226.9 million. In a word, nice.
It wasn't just that critics loved "Baby Driver," ultimately paving the way for an awards season run and some Oscar love. It was that audiences felt the need to talk about "Baby Driver" and encouraged others to see it. It was the kind of movie that got people excited, creating a groundswell that kept audiences interested for weeks on end. It's the sort of thing that's impossible to manufacture, but all of the pieces, in hindsight, were placed just where they needed to be on the board for this to result in the box office equivalent of a checkmate.
The Lessons Contained Within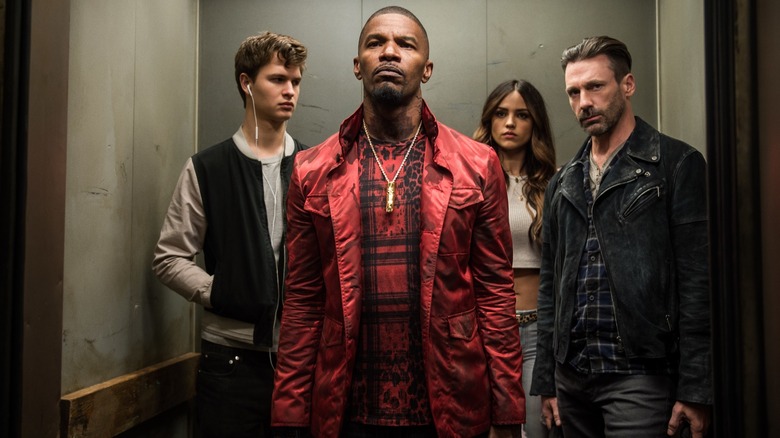 While I tend to focus on financial/business lessons, it is worth mentioning that maybe the greatest lesson this movie has to offer is for creative types. Edgar Wright sat with this one for a long time and that passion never left. The idea evolved and changed over the years, but the man never gave up on it, and when the stars finally aligned, it earned one of the modern era's most well-liked filmmakers by far the biggest hit of his impressive career. I just think that's neat. Don't give up on those dreams, kids.
Beyond that, there is a lesson here in studios not abandoning the mid-budget movie. The key seems to be taking calculated risks when the occasion calls for it. One could argue that in a post-COVID world, with audiences being far more selective about what they plan to see in theaters, mid-budget films that carry less financial risk might be the way to go. Gigantic blockbusters are only going to get riskier, especially as China gets more selective about the movies it releases -- and Hollywood depends on those Chinese box office dollars in a big bad way.
The movie math is easier said than done, but giving Wright $34 million allowed him to make the kind of movie that, on paper, has mass appeal. This arguably had "Ocean's Eleven" level of popcorn entertainment written all over it, just without the massive ensemble cast. Look at the "John Wick'' franchise. Look at "Candyman." Yes, there are disastrous examples in the mid-budget realm (see "Hellboy" or "Richard Jewell" for some recently examples.) Even "Last Night In Soho" has not done very well up to this point and may end up being a bit of a financial misfire. 
But if studios can be calculated and discerning, there is room for these movies to blossom, and they can be theatrical hits. These movies don't need to be relegated to the streaming realm in the future. Be (responsibly) bold, Hollywood. Don't let mid-budget movies die. We don't want the next "Baby Driver" getting left in the dust.
Read this next: The Best Movies Of 2021 So Far
The post Tales From the Box Office: How Baby Driver Became a Mid-Budget Miracle appeared first on /Film.