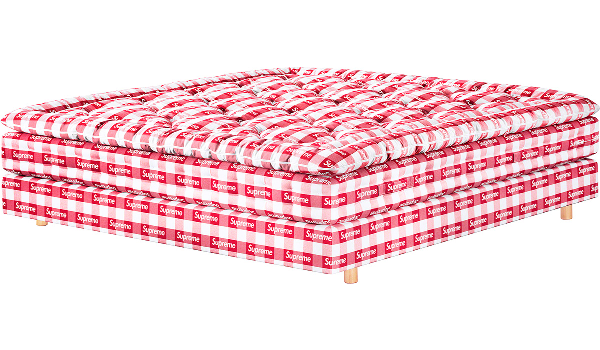 Image via Supreme
If you're somewhat of a hypebeast, chances are, you probably have a couple of household items from Supreme.
After all, the streetwear brand is known for its eclectic offerings, including a US$259
Burner Phone
and a US$129
Zippo Lighter
.
Now, the brand wants to get hold of your bedroom, too. In partnership with Swedish mattress maker Hästens, Supreme is introducing a king-size continental bed set, with its red and white plaid design.
However, a night's sleep on this bed's going to cost you. According to
Input
, the set's rumored to be going for US$23,990 — even more expensive than its US$8,239
suitcase collaboration
with Rimowa.
Notably, in a strange design choice, it isn't the sheets—but the bed itself—that's covered in Supreme branding. Meaning, if you were to put on sheets, you wouldn't be able to tell it's one of streetwear's most hyped beds at all. Unless the brand decides to release its own line of bed spreads, of course.
Despite all that, the mattress itself is actually top of the line. Hästens has been making beds for over 150 years, using 27 layers of natural materials—like Hästens horsetail hair, cotton, wool, and flax—and hand-stitching them for the most comfortable sleep ever.
According to
a review
by GoodBed, the company was the first to introduce the bed frame, invent pocket coils, and include a top mattress.
Typically, customers would get to customize both sides of the bed at Hästens, though it's unclear if the Supreme version will be the same. The mattress included in the set is the Maranga, one of the maker's most affordable models, despite it ranging from US$10,000 to US$20,000.
If you're doing the math, that means Supreme's adding an extra of US$4,000 for its signature branding as well as the bragging rights.
Interested? Fastest fingers first when the limited set launches September 23. Click
here
for more details.
View this post on Instagram
[via
Input
, cover image via
Supreme
]