Math really is everywhere we look: from the geometry of nature to the physics of a jump shot. This month's book list showcases the incredible world of mathematics.
It's A Numbers Game! Basketball (part of "It's a Numbers Game!" series)
by James Buckley Jr for National Geographic
Children may not realize it at first, but numbers play an important role in basketball. Math and numbers dominate this sport, from the dimensions of the court to the number of seconds NBA players have to score a basket. This is a fun book filled with math facts pertaining to basketball, colorful graphics, and sports trivia. It also includes a Foreword by the legendary Kobe Bryant.
A Quick History of Math
by Clive Gifford, illustrated by Michael Young
This book chronicles the history of math, beginning with the Lebombo bone (the very first mathematical object in the world) all the way to the present day. Readers will learn how to count like an Egyptian using hieroglyphs and how to do matha-magic with magic squares. It's fun and engaging, and also packed with jokes, graphics, and activities.
What's the Point of Math?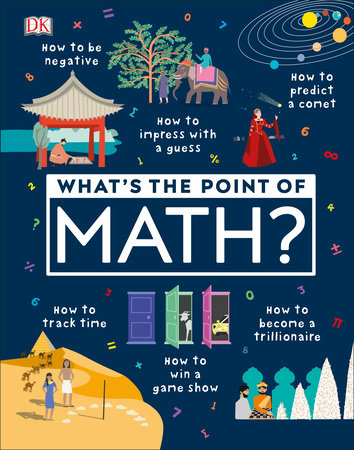 by DK
What's the Point of Math? not only highlights how math is all around us, but also,that math is fun. Through a slew of fun facts, magic tricks, and mathematical brainteasers, readers will be entertained while they learn. The book also touches on the history of math as well as bios of famous mathematicians.
Much Ado about Baseball
by Rajani Larocca
Although this is fiction, Much Ado about Baseball is a stellar book. To be clear, it doesn't specifically teach readers about mathematical concepts, but the narrative connects to math in many ways. For example, twelve-year-old protagonist Trish is able to solve tough math problems and loves baseball. When she moves and joins a new baseball team, they must solve a difficult puzzle or there will be tragic consequences.
The Wacky and Wonderful World Through Numbers 
by Steve Martin, Clive Gifford, and Marianna Taylor
This book will likely entice readers with its wacky and fascinating facts that show how math is all around us. For example, honeybees must visit 2 million flowers to make about a pound of honey. It is a wealth of fun and interesting information presented in a well-organized, engaging way with over 60 different topics to choose from.
The School of Numbers
by Emily Hawkins & Daniel Frost
Young readers (and aspiring space cadets) will embark on an intergalactic mathematical journey as they make their way through this interactive book. Its 40 lessons are narrated by six "professors" from the fictional Astro Academy, covering topics like negative numbers, fractions, angles, statistics, and more. Along the way, the professors provide clear explanations of math concepts, handy tips and timesavers, and plenty of activities for practice.
Sir Cumference Math Adventures 
by Cindy Neuschwander and Wayne Geehan
This delightful, punny series features the brave knight Sir Cumference, his wife, Lady Di of Ameter, and their son, Radius. The noble family uses math to solve all sorts of problems that threaten King Arthur's kingdom, from fire-breathing dragons to ogre kidnappers to enemy armies. Along the way, they unlock the mysteries of geometry, decimals, and data visualization.
The Kitchen Pantry Scientist Math for Kids 
by Rebecca Rapaport and Allanna Chung, photos by Glenn Scott, illustrations by Kelly Anne Dalton
Equal parts history and "how-to," this engaging book encourages kids to follow in the footsteps of incredible mathematical pioneers. It presents 20+ short biographies of influential mathematicians, from Federico Ardila to Florence Nightingale to Maryan Mizakhani. Each profile is accompanied by a hands-on activity related to the mathematician's work. With magic tricks, games, and crafts galore, Rappaport and Chung bring abstract math topics to life.
Dollars & Sense: A Kids' Guide to Using – Not Losing– Money
by Elaine Scott & David Clark
This primer explores history of money and banking, particularly within the US. After tracing the development of various currency and banking systems, it discusses the impacts of The Great Depression and The Great Recession and ends with some helpful hints about saving and budgeting. Overall, this is a great introduction and discussion starter for kids who are starting to think critically about their own values and habits about money.
The Big Fat Middle School Math Workbook
by Workman Publishing and the Editors of Brain Quest
This handy homework helper is packed full of lessons, definitions, study hacks, and hundreds of practice problems. Its layout is clear and straightforward, so students can jump to any topic and dive right in. The answer key at the back of the book not only provides the right answers but also explains how to solve each problem.
________________________________________________
This month's STEM Tuesday book list was prepared by:
Lydia Lukidis is the author of 50+ trade and educational books for children. Her titles include DANCING THROUGH SPACE: Dr. Mae Jemison Soars to New Heights (Albert Whitman, 2024), DEEP, DEEP, DOWN: The Secret Underwater Poetry of the Mariana Trench (Capstone, 2023) and THE BROKEN BEES' NEST (Kane Press, 2019) which was nominated for a Cybils Award. A science enthusiast from a young age, she now incorporates her studies in science and her everlasting curiosity into her books. Another passion of hers is fostering a love for children's literacy through the writing workshops she regularly offers in elementary schools across Quebec with the Culture in the Schools program. For more information, please visit www.lydialukidis.com.
Callie Dean is a researcher, writer, and musician living in Shreveport, LA. She writes stories that spark curiosity and encourage kids to explore their world. Follow her on Twitter at https://twitter.com/CallieBDean.
The post STEM Tuesday– Math – Book List appeared first on From The Mixed Up Files.