You've heard the earth-shaking statistics about the shocking number of women wandering around in the wrong bra size. This story isn't about that.
This is about the toll of time on our breasts. If you're like us and find yourself alarmed by their transformation — perhaps they feel like week-old balloons, or you've discovered they've snuck off to take shelter in your armpits — there's more to do than simply complain about gravity.
We caught up with Tomima Edmark (pronounced like Jemima with a "t"), founder and CEO of online lingerie retailer HerRoom.com, for some straight talk on dressing aging breasts and keeping them as perky as possible.
It's not just about bra size.
As women age, their breasts change. In addition to losing collagen and elasticity in the skin, the Cooper's ligaments that maintain breast structure weaken. (Get more of the science here and here.) Over time, breasts lose fullness and shape. "It's like putting a bra around a pillow as you get older," Edmark says. "Our breast tissue becomes less firm and more loose. Everyone's trying to eliminate these bulges around their bras — and we've been unnecessarily shamed into treating this like it's a problem — but it's a natural process."
Though your breasts may not have changed cup size, they may fill those cups differently. Finding the right fit is important. The leading mistake Edmark says women make is choosing a band that's too big and a cup that's too small. Need updated measurements? Get a professional fitting at a bra shop in your city or DIY — HerRoom.com has piles of helpful how-to videos — then read on to find a bra that gives your breasts the support they deserve.
15 Best Bras for Mature Women
Disclosure: This post contains affiliate links.
Wires and seams are your friends.
"There's a real push on the market right now for comfort and softness, but there really is a reason for structured bras," Edmark says. "Underwire keeps your breast tissues front and center. A bra with seams in the cups is the most supportive, but it also forms your breasts into the shape you want them to be and keeps them there."
While seamless T-shirt bras are flying off shelves, they're not always the best bet after 40. Breast tissue is malleable, she explains. T-shirt bras that contain memory foam will mold to your breasts. If your breasts are sagging, well, you do the math.
Edmark says to look for a bra with a vertical seam, beginning from the bottom of the bra to at least the nipple. "That raises your breasts and gives you great shape," she says.
Here are some of our top choices for the best all-around bra. 
This bra offers a supportive micro fabric, bonded bust support, and a hardware-free design that will make you feel lifted, secure, and oh-so-smooth. Available at Honeylove with the V-Neck Bra Bundle for $102.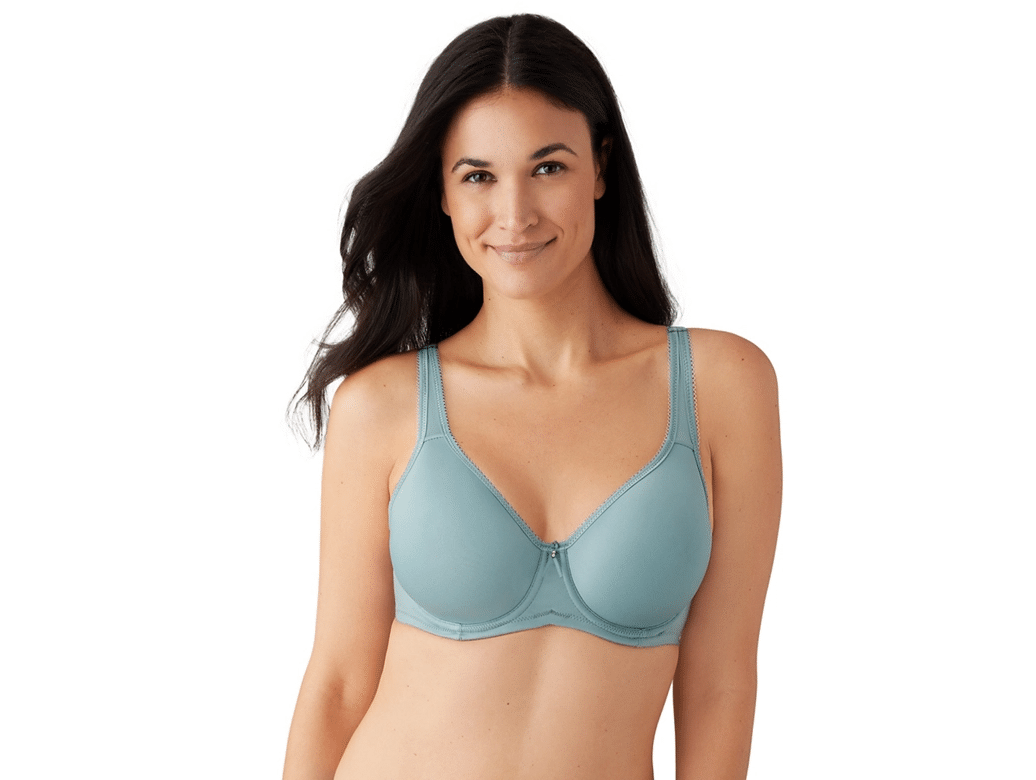 This best-selling t-shirt bra offers great support for all-day comfort. The seamless spacer cups provide more opacity than an unlined bra while giving you a rounded shape and a smooth look under clothes. Available at Wacoal, the Basic Beauty Spacer Underwire T-Shirt Bra is $65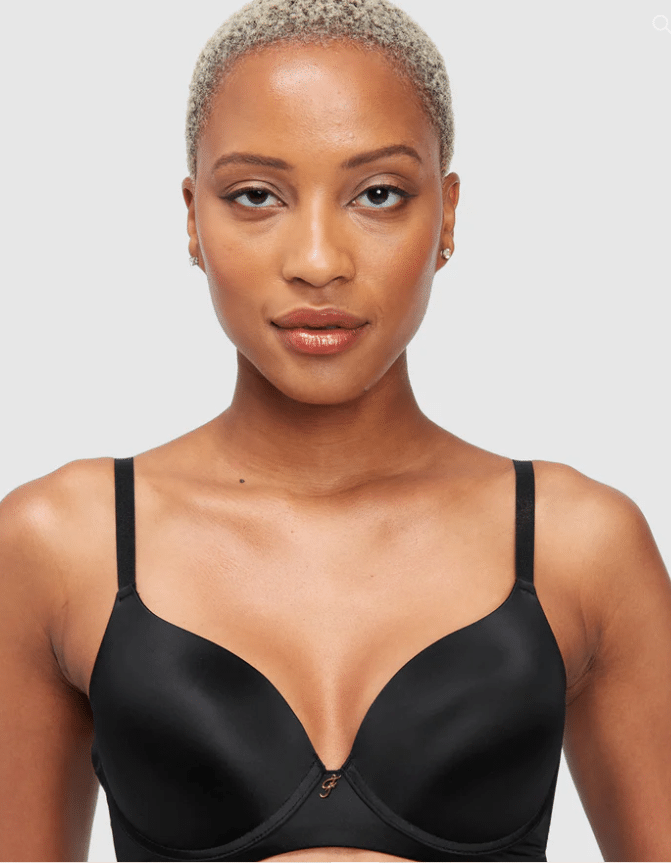 Fall in love with yourself in the Lexi Collection. Feel luxurious in the rich liquid satin, with seamless lines that make you look flawless. Lexi is made from super soft, silky fabric in luxe colors that can be worn with anything and are guaranteed to turn up the heat. The collection will take your breath away as it gives your day (and your curves) the perfect lift. Available at Frederick's Of Hollywood, the Lexi Push-Up Plunge T-Shirt Bra is $20. 
If you need a little extra support, a substantial side seam (at least 3.5 inches) or side support panels help tackle underarm spillage. Side support panels may be sewn into the bra or part of the design. That straight piece pulls breast tissue out from the underarm and keeps it forward. If you're still finding rolls in your armpit, Edmark says, "you didn't put your bra on correctly, or you need to go up a cup size."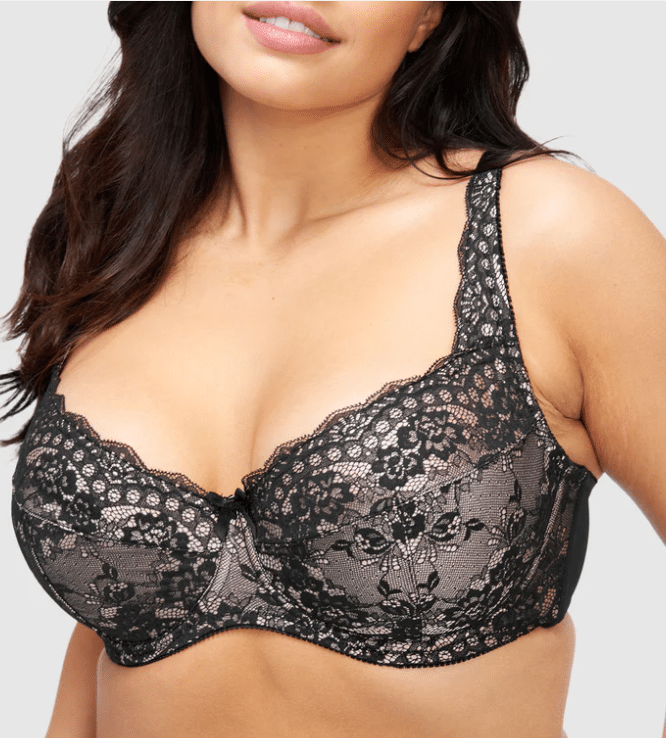 Feel curvy and confident in this Voluptuous Full-Figure Push-Up Bra. With amazing, contrasting colors, you'll fit right in on classy nights out or sultry nights in. The Frederick's Of Hollywood Voluptuous Full-Figure Push-Up Bra is $54.50.
Give the girls the support they need.
For breasts that need extra support, look for bras with center-pull straps that are attached to the center apex of the cup. No physics degree is necessary to understand why a strap that pulls up on the middle of breast tissue is superior to one that pulls to the sides.
Chantelle's Rive Gauche full-coverage unlined bra has all the bells and whistles: center-pull straps, extra seams for lift, side support panels, stretch mesh for comfort, and soft lace. Available at us.chantelle.com, $88.
The Elmo Cate bra is supportive and pretty with multiple seams, side support panels, and embroidery that looks smooth under clothing. It works well for fuller figures, too. Available at barenecessities.com, $62.
You're probably putting it on wrong.
"You shouldn't just stick a bra on," Edmark says. "Don't hook it up, spin it around, strap it on, and go." (Oops. Guilty.)
No matter your breast size, there's a method to getting a bra on properly. Put your bra on, lean forward, and with your opposite hand inside your cup, pull your breast from your armpit to the center of your body on each side before standing up. "You will be shocked at how much more of a bustline you have," she says.
You may need to tighten your straps, too. A simple trick? Grab the base of the strap, where it attaches to the cup, and pull it up a little. Do you look better? Tighten 'em up.
"You don't have 20-year-old breasts anymore," Edmark says. "You need to move them to get them in the right spot." Seamed-cup bras offer a visible target for nipple placement. The inner section where the seams cross marks the spot where the nipples should be. Bull's-eye.
Don't skimp on a sports bra.
Breasts need to be properly secured during high-impact exercise. "When you are running, your breasts don't go up and down," Edmark says. "They go in a lazy eight. Up to the right and down and then up to the left and down. That stretches those ligaments. You really need to have total containment of your breasts."
The Panache full-busted underwire sports bra offers full coverage, padded shoulder straps, and breathable mesh at the neckline. Available at amazon.com, $51.95.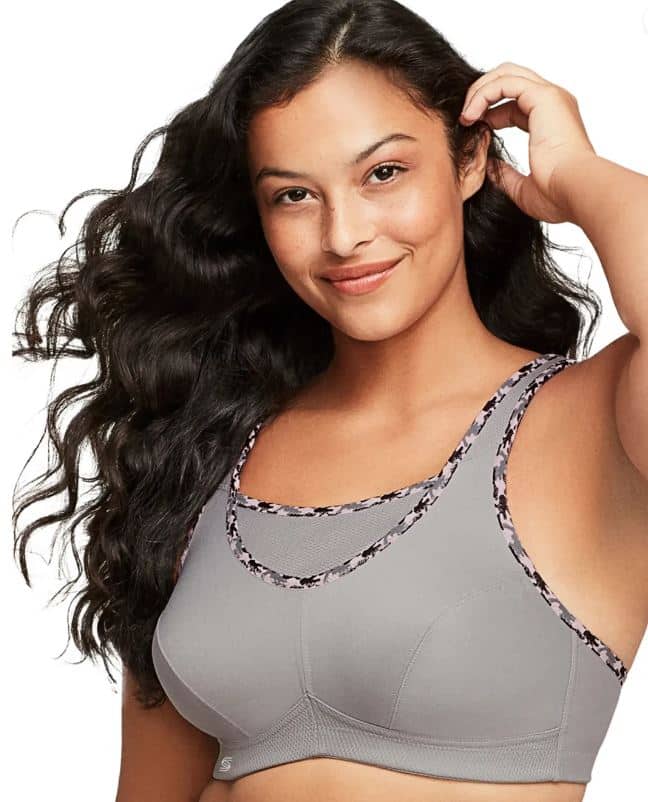 Feel strong in this moisture-wicking and wire-free sports bra that's built for mid-impact activities such as cycling. You'll feel confident with a bra that will minimize bounce with full coverage and seamed cups. Available at Bare Necessities, it's the No-Bounce Cami Wire-Free Sports Bra, $47.
Treat yourself to something special.
Age doesn't relegate you to the nude potato sack section of the lingerie department. "Europeans think wearing a beautiful bra with seams is like wearing a Louis Vuitton bag," Edmark says. "Why wouldn't you want everyone to know you're wearing a fabulous lacy bra? And we go out of our way to be invisible over here. We want these androgynous melon shapes on the front of our bodies."
We love a good lounge bra, but Edmark's got us feeling jazzed about brushing the dust off our more sophisticated side. After all, there are bras out there that can do it all, offering both support and beautiful designs. "And at our age, you deserve it," Edmark says. "Why not treat yourself to a really great bra?"
Here are some of the best something special bras for women over 40:
You'll love splurge-worthy Prima Donna Forever full-cup, made with four parts, all the right seams, integrated side support panels for lifting and centering, 4-inch-tall sides, extra-wide elastic straps with lace, and a beautiful scalloped lace neckline. Available at herroom.com, $110.
The Simone Perele Andora 3D plunge bra has a contoured, preformed cup that holds its shape off your body and a knit design for the soft feel bra shoppers crave. Available at Amazon, $99.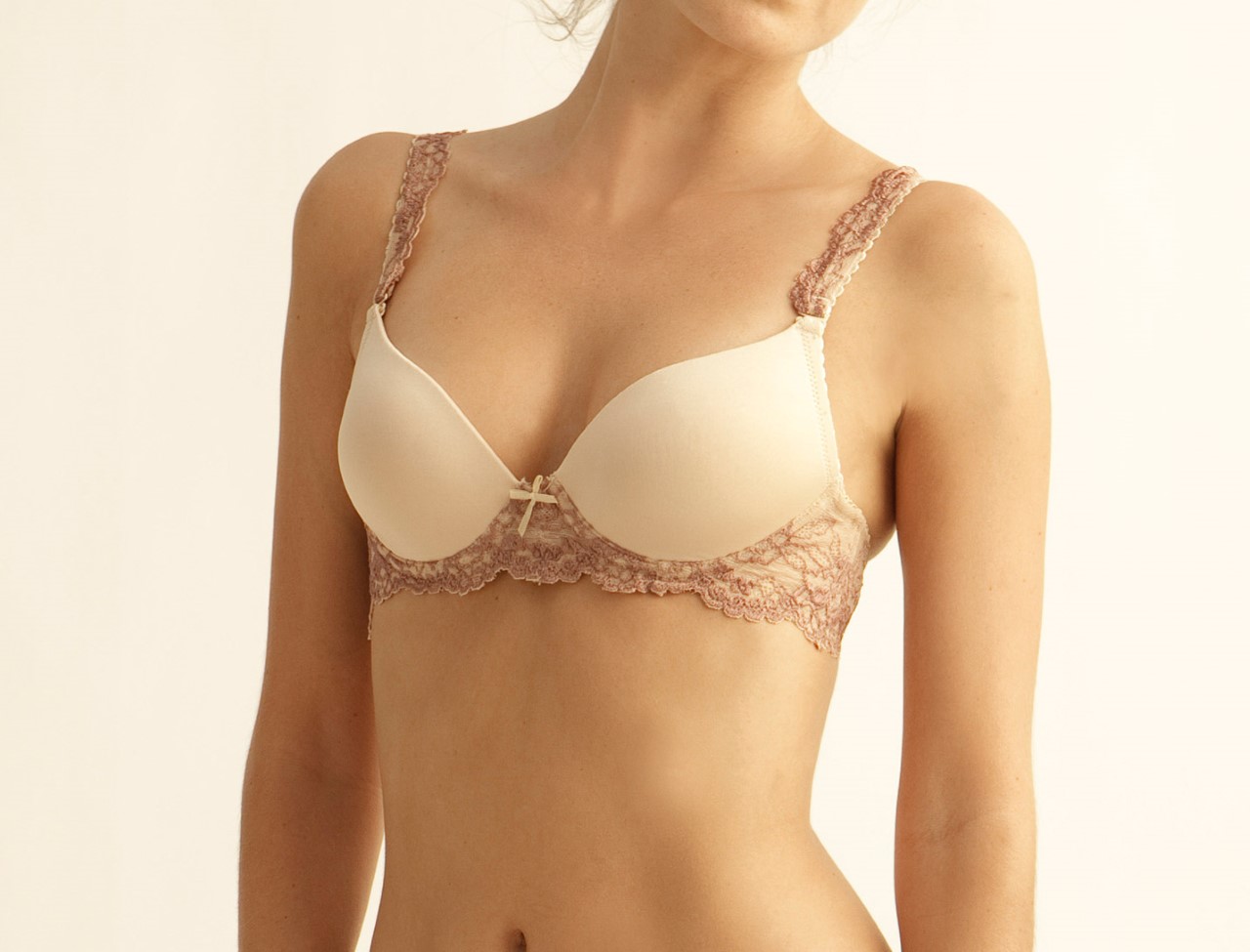 Named Best T-Shirt Bra for Petites by Real Simple Magazine, the Yvonne bra provides the best of both worlds! You get the amazing seamless look of a t-shirt bra while having a feminine touch of lace detail along the back and straps. This gorgeous smooth-cup bra has contoured push-up padding for a natural-looking curve for a petite figure. This style comes in small bra sizes and has versatile convertible straps. Pretty meets practical! Available at The Little Bra Company, $62.
Reviewers gush about the Wacoal Ultimate Side Smoother underwire T-shirt bra's ability to contain the underarm bulge with extra side coverage and a crisscross band designed to smooth the sides and back. Available at Wacoal, $74.
The Rebecca Lace Spacer full-cup bra makes big-busted skeptics of bra comfort change their tune. Full cups prevent side boob, and tall lace sides (4.25 inches) offer side and back smoothing. Available at Amazon, $Price varies.
Bali's Live It Up underwire bra may not have the dazzling details of its neighbors on the shelves, but it does have a comfortable underwire, center-pull straps, good side support, and extra lift from the bottom at the petal design. Available at macys.com, $44.
And if you really feel like treating yourself, the Empreinte Cassiopee seamless full-cup bra is handcrafted from the prettiest mesh lace and microfiber. Available at HerRoom, $169+.
Read Next:
10 Best Clothing Stores for Women Over 50
The post Our Top Picks: 15 Best Bras for Mature Women appeared first on Prime Women | An Online Magazine.