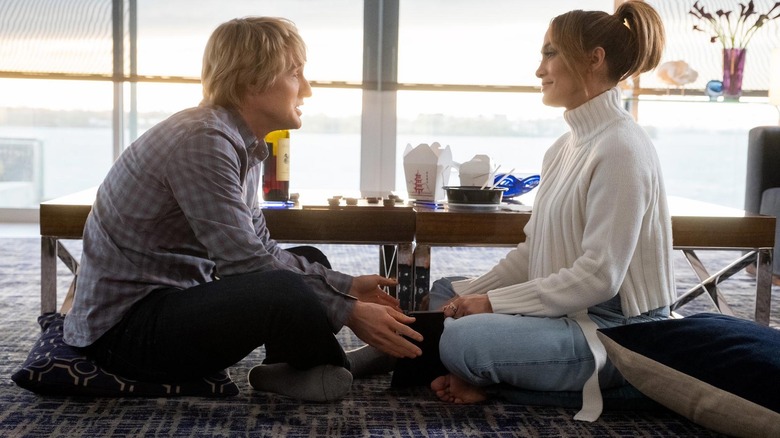 (Welcome to ...And More, our no-frills, zero B.S. guide to when and where you can watch upcoming movies and shows, and everything else you could possibly stand to know.)
The stars have aligned and the universe is giving us a very special gift: Jennifer Lopez is returning to rom-coms. In the next year, she has two big romantic comedies coming to theaters, including the very subject of this article, "Marry Me." As if Lopez isn't enough star power for one movie, her love interest is none other than Owen Wilson. Obviously, you need to know more immediately, so keep reading for more info on the upcoming film, "Marry Me."
Marry Me Release Date And Where To Watch It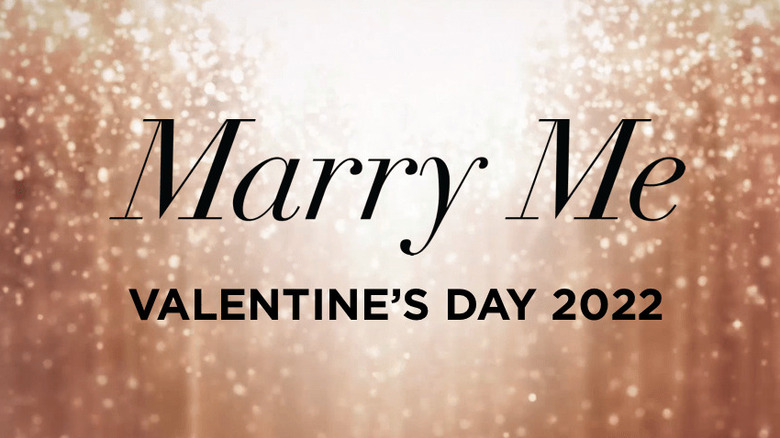 "Marry Me" comes to theaters on February 11, 2022, fittingly close to Valentine's Day. The film was originally set to hit the big screen on Valentines Day of 2021, but pandemic delays and theater shutdowns pushed those plans aside.
What Is Marry Me?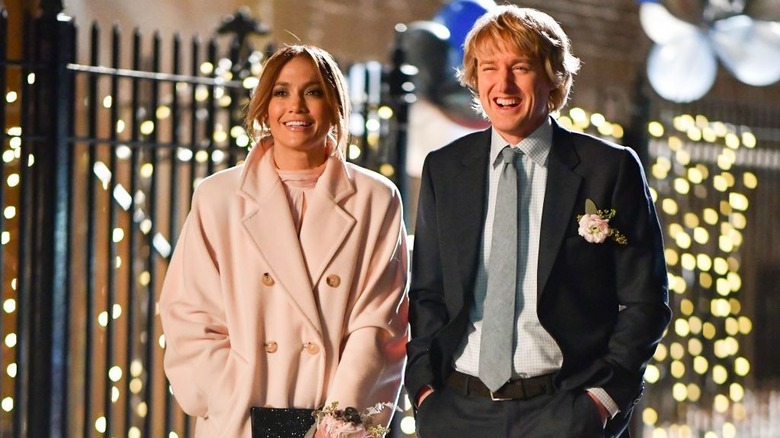 "Marry Me" takes its story from a webcomic written by Bobby Crosby and illustrated by Remy "Eisu" Mokhtar. The comic follows Stasia, a pop artist with enough fame to fill any stadium she performs in, but has terrible luck when it comes to matters of the heart. After a bad break-up, she isn't thrilled about getting back into the dating scene, which plagues her as she prepared for her last show of the year. And then, mid-performance, she sports a man holding a sign that says "marry me," and in an act of rom-com impulse ... she does. Turns out, the man in question, Parker, was holding the sign for a friend. Not that it matters — the wedding bells can't be unrung. 
Based on the comic, "Marry Me" twists the story to follow Katalina Valdez, a Latina pop-star who discovers that her onstage partner and rock star fiance Bastian has been having an affair behind her back. In retaliation, she chooses to marry a stranger in the crowd. 
Marry Me Cast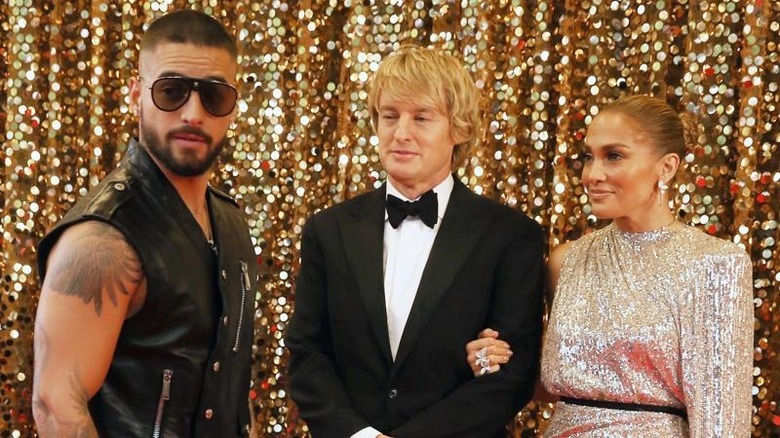 Jennifer Lopez is the star of the movie, Katalina "Kat" Valdez, the sensational pop star with little luck in the world of love. Her cheating fiancé and onstage partner Bastian is played by Latin music sensation Maluma, making his feature film debut. In addition to starring in the film, the pair will grant us a number of original songs on the soundtrack, teaming up to perform as their pop sensational characters. 
Owen Wilson stars opposite Lopez as the lucky man she plucks out of the crowd: his Charlie Gilbert is a divorced math teacher who was in the right place at the perfect time. "Marry Me" also stars ​​John Bradley, Sarah Silverman, Chloe Coleman, Michelle Buteau, Stephen Wallem, Jameela Jamil, and Utkarsh Ambudkar, with Jimmy Fallon appearing as himself.
Marry Me Director, Writers, And More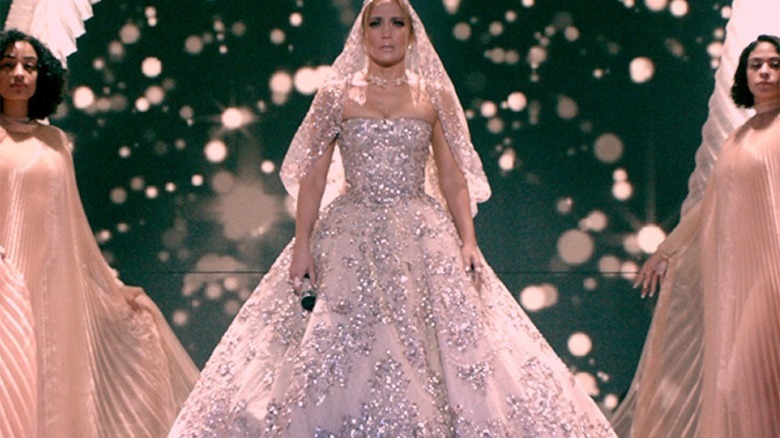 "Marry Me" is based on a webcomic written by Bobby Crosby, with a screenplay adapted by Tami Sagher ("Shrill," "How I Met Your Mother"), John Rogers ("The Librarians," "Catwoman") and Harper Dill ("The Mindy Project," "The Mick"). The film is directed by Kat Coiro, the TV director behind episodes of "Brooklyn Nine-Nine," "Modern Family," "Girls 5Eva" and the upcoming Marvel series, "She-Hulk." "Marry Me" is produced by star Jennifer Lopez, along with Elaine Goldsmith-Thomas, Benny Medina and writer John Rogers.
Marry Me Synopsis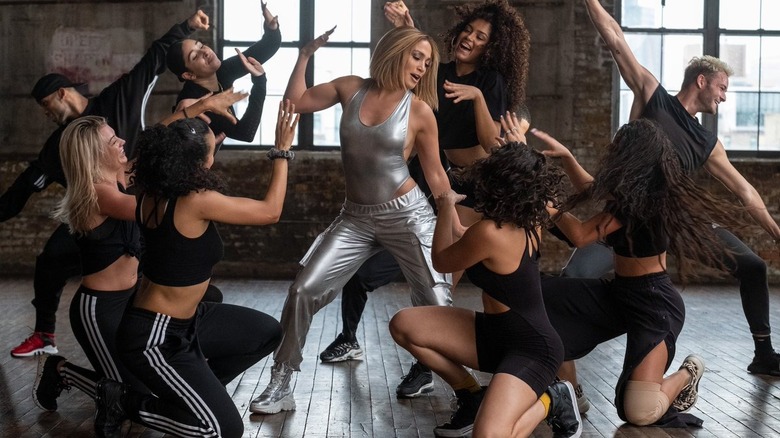 We have yet to see a trailer for the "Marry Me," though one was screened at 2021 CinemaCon. Here's the official synopsis for the film:
Packed with original songs by Jennifer Lopez and global Latin music star Maluma, Marry Me arrives next spring with Lopez starring as musical superstar Kat Valdez and Owen Wilson as Charlie Gilbert, a math teacher—total strangers who agree to marry and then get to know each other. What begins as an impulsive reaction evolves into an unexpected romance. But as forces conspire to separate them, the universal question arises: Can two people from such different worlds bridge the gulf between them and build a place where they both belong? An unlikely romance about two different people searching for something real in a world where value is based on likes and followers, Marry Me is a modern love story about celebrity, marriage and social media.
Read this next: Jennifer Lopez's 'Marry Me' Gets Bumped Nearly A Full Year To Valentine's Day 2022
The post Marry Me: Release Date, Cast, and More appeared first on /Film.