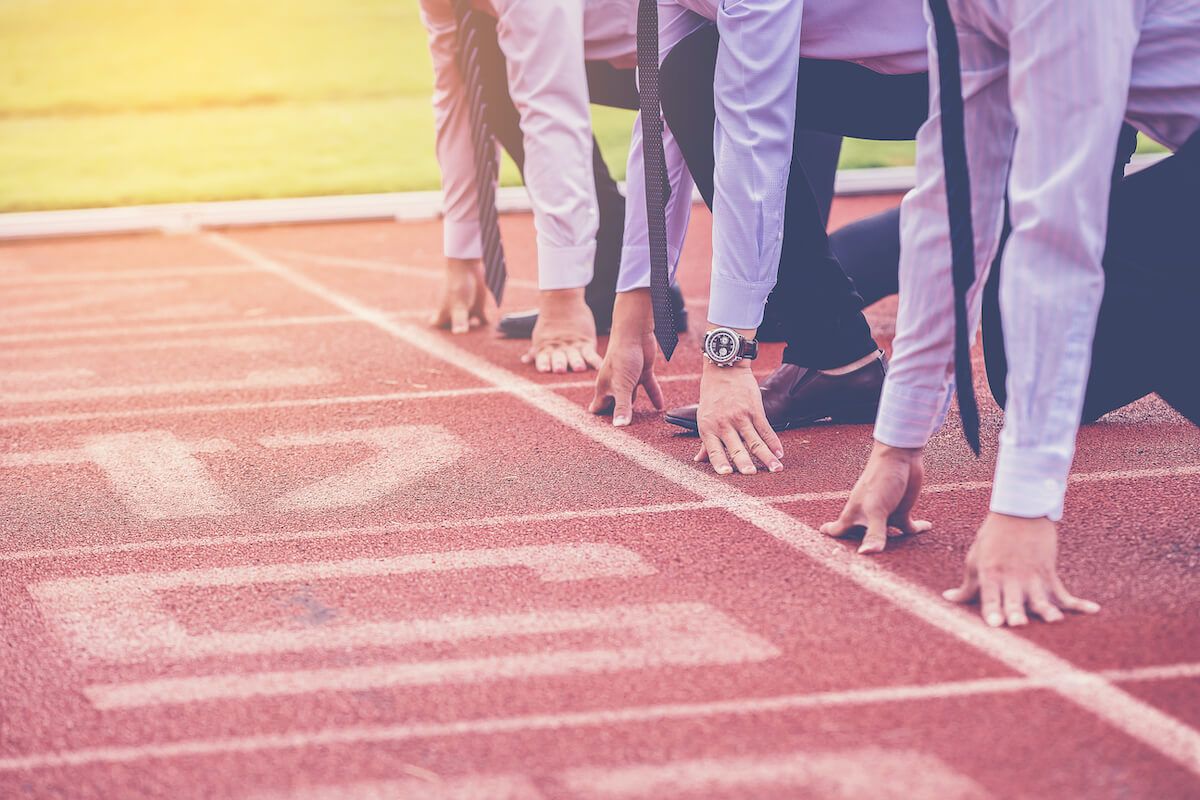 For small- to medium-sized ecommerce businesses, it takes more than a little moxie to compete with the likes of Amazon and other behemoth brands. In light of the COVID-19 pandemic, small businesses find themselves more resource-strapped than ever before, while Amazon's profits in particular have actually increased by 200% since the start of COVID-19. As the gap between "resource-rich" and "resource-strapped" yawns ever wider, is it even realistic for small businesses to think they can compete with mega brands at all?
Pound for pound, you might be outmatched by these multi-billion dollar empires, but that doesn't mean small businesses can't carve out a lucrative place for themselves in the competitive online landscape. The secret? Accepting what these brands bring to the table that your business cannot, and then understanding what you bring to the table that they cannot. Here's how.
Embrace Being Small
The key differentiating factor between large brands and small brands is convenience. If you take a casual survey of people who shop with Amazon, for example, one thing you'll notice right away is the number of people who feel "trapped" by the convenience of Amazon. Of course they'd like to shop somewhere else, but where else can they find everything they need on a single platform, complete with millions of reviews, free two-day shipping, and no-questions-asked returns?
Those value propositions are incredibly difficult to compete with; the only way Amazon can offer them is by having their merchants foot the cost. However, your key differentiating factor is hidden in that "casual survey response" too, because one thing Amazon doesn't have in its corner is passionate customers. In fact, 40% of shoppers want to reduce the amount they spend at Amazon, and 30% feel guilty for shopping there. Within certain segments, that number is even higher.
Customers have an ambivalent relationship with Amazon at best. On the other hand, shopping with small businesses or local merchants gives customers a sense of fulfillment by helping the economy and giving something back to the community. This presents a perfect opportunity for you to embrace your role as a small business and use it to your advantage.
To get started, here are some simple ideas to help showcase your role as a small business:
Beef up your About Us page: Your About Us page is the perfect canvas to paint the picture of small business bliss. Detail the story of how your business got started, list your inspiration for opening your online store, and add pictures of you and your team to make a close, personal connection. As a bonus tip, if you can include your mission, you can really tug at the heartstrings (and purse strings) of customers who want to help a smaller operation.
Add icons to your site: Are you a member of the BBB or local Chamber of Commerce? Show it off by adding icons to your template, which lets customers know that you're small and reputable. Or, you can add a callout within your template or checkout page that says something as simple as, "We support small businesses." This approach will give online shoppers a last-minute reminder that they're supporting a good cause before purchasing.
Be transparent with your products: Let customers know exactly where your products come from and what they're made of. Whether they're "Made in the USA" or are built with your own hands, showcasing the product creation process makes customers feel more connected to your products. After all, customers have no idea where Amazon sources their products from or if they were made under ideal conditions.
Showcase your start-up culture: The name of the game is to make a personal connection between your small business and your customers. What better way to do that than sharing images of you and your team? Dating back to olden times, people have always preferred to buy from people they trust. By highlighting your team behind the scenes, you're establishing that all-important credibility.
Personalize the Experience to Establish Unwavering Brand Loyalty
The ambivalence shoppers feel about larger brands gives you an opportunity to establish yourself as a fan favorite—and in so doing, you'll have a major advantage over big-time retailers. Personalized brand experiences are the best mechanism to establish this type of unwavering loyalty. If you can make customers feel like they're your only priority, you've increased the chances of having them return to your site.
Here are some ways to personalize your customers' experience and establish brand loyalty:
Work your loyalty program: Once you launch your customer loyalty program, follow up with your members by sending emails that have special coupons, discounts, and product announcements. These folks are typically your most loyal, repeat customers, so go the extra mile to make them feel like VIPs.
Pull out a pen: Handwritten notes go a long way, especially since we rarely see them anymore. Depending on your order volume, consider including a short thank-you note in each shipment. Or, if you don't have time for that, write out an appreciative card each month to your most valuable customers.
Stop with the generic emails: No one feels special when they receive an email that says, "Dear Customer." Instead, take the time to insert the first name of customers in your messages, particularly with transactional emails.
Make product recommendations: If you're truly looking to upsell, suggest particular products to different customer segments based on their previous purchases. Your shopping cart software likely has some sort of functionality for this, and if not, you can always do some data mining on previous orders to draw conclusions of your own.
Despite large teams of customer service reps and mammoth marketing budget, nothing can replace a personal connection between buyer and seller. By taking the extra time to truly make your customers feel appreciated, you'll establish a strong bond that grows into unwavering brand loyalty.
Focus on Product Specialization and Expertise
Imagine you find a beautiful piece of art that would look perfect in your living room. Before you buy, you have the opportunity to speak to the painter. She introduces you to the piece, details her inspiration and walks you through each brushstroke. Once her detailed explanation is over, you have the ability to ask questions and shake her hand. After it's over, you have a much deeper appreciation for the product now hanging in your home.
You can provide this same type of product appreciation to your customer base by showcasing your expertise. Try the following:
Launch a blog: Beyond its SEO benefits, launching a blog that's focused on your products and industry is a surefire way to boost your credibility. Write various posts that highlight the history, context, and benefits of your product. Or, if you make products yourself, build posts that detail the step-by-step process behind their creation. If neither of these ideas apply to you, create posts that demonstrate the lifestyle that your products and brand represents (this is particularly helpful with apparel and fashion). And while you're in the early stages of blogging, leverage tactics to get people to actually read your blog content.
Create an FAQ section: To extend expertise to your website, create an FAQ page that details questions such as, "What is the history of this product?" "What is the cultural impact of this product?" "How does a specific ingredient of this product make a difference?" Also include customer benefits within these answers so you strike a balance between being a salesperson and subject matter expert.
Openly solicit customer questions: What better way to showcase your expertise than to answer questions? Invite customers to ask questions by prompting them to leave comments on your blog, or updating your Facebook status to accept inquiries from your fans. Once you respond, you'll create a true sense of trust with certain individuals and the masses.
Produce product videos: Product videos serve as a proven sales tool to boost conversions. Additionally, they help customers better understand the process behind a product, as well as its benefits. Get started by incorporating videos into your product pages, and then transcend them onto your blog and social media channels.
It would be next to impossible for anyone to demonstrate true passion and expertise for a product line that ranges from art to janitorial supplies. Take advantage of this chip in the armor of large brands by beefing up your informational arsenal, and work to share your dedication with your customers and the world.
Support a Worthy Cause
Drive home the benefits of shopping with your business by supporting a cause you believe in. If you're new to working with charitable causes, try the following:
Find a cause that relates to your brand: If you sell pet supplies, donating a portion of your profits or time to the ASPCA would be a good fit. Or, if you're selling home décor, making a contribution to Habitat for Humanity is a wise choice. Whatever the case, find a cause that fits with your brand, and more importantly, is one that you and your customers believe in.
Showcase this cause on your site: Throughout your website, particularly on your checkout and order confirmation pages, remind customers that a portion of their purchase helps support your chosen cause. Include links to information about the organization you're supporting, and include another "thank you" message in their order confirmation email, if appropriate.
Follow up by communicating your contributions: Once you make your donation or spend time volunteering with your non-profit organization, include these activities in your customer communications. For example, you can include a summary in your customer newsletter, write a blog post, or share a photo album on social channels.
Supporting a cause that's dear to you and your customers reinforces the same advantage your small business has over mega brands: customers want to make purchases that make them feel better about themselves.
Don't Compete on Price, But Do What You Can
Because of the huge popularity of major brands like Amazon and their seemingly limitless product offerings, they can afford to accept razor-thin (or even negative) profit margins to provide low prices. This means that if you're hoping to compete against them on price, you'll be facing a steep uphill battle. Despite this challenge, you can still find ways to help reduce prices to stay competitive.
Doing so comes down to cutting costs, and yes, doing some math:
Work with your suppliers: Establish a close relationship with your product suppliers to see if there are any discounts that you're eligible for. Don't be afraid to ask them if there are any savings by ordering products in bulk. Or, when talking to your shipping providers, ask if there are any cost efficiencies you can obtain by utilizing other services they might offer.
Make a list of wants and needs: Even the smallest business on the tightest budget has a little excess spending they can trim. Get started by creating a list of the bills you must absolutely pay to keep the lights on. Then, create a list of other expenses and think of creative ways to either remove or reduce those costs.
Look at individual profit margins: Some products provide much higher margins than others. If that's the case, ask: "Can I accept smaller margins on some products to encourage my customers to purchase more products as a whole?" Taking a look at these numbers is helpful in increasing your average order value (AOV), which collectively gives a bigger boost to your bottom line.
The main idea here is to reduce your prices enough so they're somewhat comparable to larger brands, while leveraging your overall added value to justify the extra cost your customers might encounter. Pick the right tools, and you too have a fighting chance.
Believe You Can Compete With Mega Brands
Believe in your inner entrepreneur. If you accept that "Large companies are too big; I can never do it," you've already lost the war.
Instead, celebrate your victories, reflect on your losses, and always look for ways to improve your small online business. After all, you've worked hard to get where you are today, and you're bound to reach new heights as you continue to climb the wall of success. Don't give up, don't give in, and don't get down on yourself.
Final Thoughts
Competing with mega brands is no easy task—it requires diligence, hard work, and savvy marketing. But just because it isn't easy doesn't mean it's impossible. All you have to do is take advantage of the bountiful benefits that come with being a small business.