Woah, this was another awesome reading month, 5 5- star reads in the thriller and romance book categories and then some life books that were very interesting! Read on to see everything I read in March 2023. I also created a 'books' category so all these reading lists would be in one spot.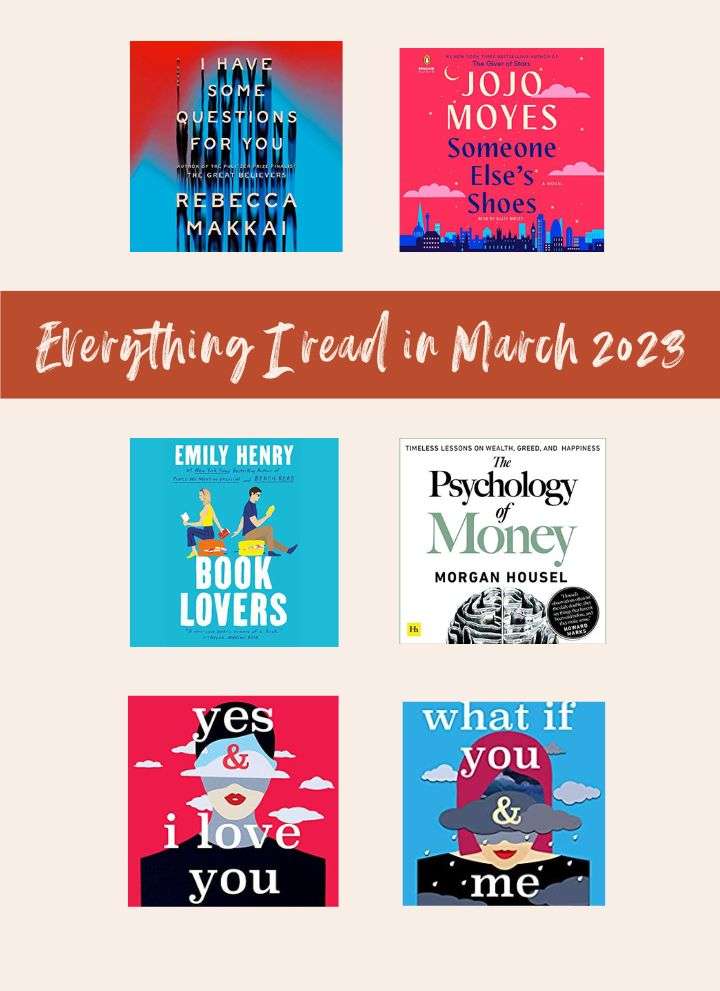 I Have Some Questions For You – 5 Stars
I LOVED this book, 10/10 would recommend to anyone looking for a great read. This book is up for all sorts of awards, and rightfully so.A successful film professor and podcaster, Bodie Kane is content to forget her past—the family tragedy that marred her adolescence, her four largely miserable years at a New Hampshire boarding school, and the murder of her former roommate, Thalia Keith, in the spring of their senior year. Though the circumstances surrounding Thalia's death and the conviction of the school's athletic trainer, Omar Evans, are hotly debated online, Bodie prefers—needs—to let sleeping dogs lie.But when the Granby School invites her back to teach a course, Bodie is inexorably drawn to the case and its increasingly apparent flaws. In their rush to convict Omar, did the school and the police overlook other suspects? Is the real killer still out there? As she falls down the very rabbit hole she was so determined to avoid, Bodie begins to wonder if she wasn't as much of an outsider at Granby as she'd thought—if, perhaps, back in 1995, she knew something that might have held the key to solving the case.In 

I Have Some Questions for You

, award-winning author Rebecca Makkai has crafted her most irresistible novel yet: a stirring investigation into collective memory and a deeply felt examination of one woman's reckoning with her past, with a transfixing mystery at its heart. Timely, hypnotic, and populated with a cast of unforgettable characters, 

I Have Some Questions for You 

is at once a compulsive thriller and a literary triumph.
Someone Else's Shoes –  5 Stars
My favorite book I've read all year! The story was so captivating and amazing and just so well written. I even had to finish listening to it as I drove down to Chicago with Nick and Frankie in the car on my birthday  because I just HAD to know what happens! A very brief overview: A story of mix-ups, mess-ups and making the most of second chances, this is the new novel from #1

New York Times

 bestselling author Jojo Moyes, author of 

Me Before You

 and 

The Giver of Stars

Who are you when you are forced to walk in someone else's shoes?
I just can't with made up period pieces and it didn't go anywhere quickly so I abandoned it after about 15 minutes
Tiny Beautiful Things –returned DNF (did not finish)
An anniversary edition of the bestselling collection of "Dear Sugar" advice columns written by the author of #1 New York Times bestseller 

Wild

—featuring a new preface and six additional columns. Soon to be a Hulu Original series. It was a little too 'real life' and I'm squeamish hearing about horrible things happening to kids and it opened with someone writing in about horrible child sexual abuse.
Very interesting and a quick read, but nothing "new", did pick up a few tidbits like Warren Buffet making most of his money after age 65! It was good and a nice money story book.Money – investing, personal finance, and business decisions – is typically taught as a math-based field, where data and formulas tell us exactly what to do. But in the real world people don't make financial decisions on a spreadsheet. They make them at the dinner table, or in a meeting room, where personal history, your own unique view of the world, ego, pride, marketing, and odd incentives are scrambled together.In 

The Psychology of Money

, award-winning author Morgan Housel shares 19 short stories exploring the strange ways people think about money and teaches you how to make better sense of one of life's most important topics.
Reread/listened to for the 3rd time!! This is just one of my favorite books ever, I love it. And it was as good the 3rd time as the first. I have very few books I re-read and this is one of them.

One summer. Two rivals. A plot twist they didn't see coming…

Nora Stephens' life is books—she's read them all—and she is 

not

 that type of heroine. Not the plucky one, not the laidback dream girl, and especially not the sweetheart. In fact, the only people Nora 

is

 a heroine for are her clients, for whom she lands enormous deals as a cutthroat literary agent, and her beloved little sister Libby.Which is why she agrees to go to Sunshine Falls, North Carolina, for the month of August when Libby begs her for a sisters' trip away—with visions of a small town transformation for Nora, who she's convinced needs to become the heroine in her own story. But instead of picnics in meadows, or run-ins with a handsome country doctor or bulging-forearmed bartender, Nora keeps bumping into Charlie Lastra, a bookish brooding editor from back in the city. It would be a meet-cute if not for the fact that they've met many times and it's never been cute.

If Nora knows she's not an ideal heroine, Charlie knows he's nobody's hero, but as they are thrown together again and again—in a series of coincidences no editor worth their salt would allow—what they discover might just unravel the carefully crafted stories they've written about themselves.
Love this book from Roni Loren (her books are very steamy). This is the first in the series and I've already finished the other ones!Everyone knows Miz Poppy, the vibrant reviewer whose commentary brightens the New Orleans nightlife. But no one knows Hollyn Tate, the real face behind the media star…or the anxiety that keeps her isolated. All her life, Hollyn's tried to hide her true self behind an online façade, but when her boss tells her she needs to reveal the truth to the world or lose her job, she's forced to rely on an unexpected source to help face her fears. Enter Jasper Deares: actor, improve star, and way, way out of her league.Hollyn thinks Jasper must be joking when he offers private lessons to help overcome her fears. Getting up on a stage? Hello, worst nightmare. But Jasper's infectious charm has her saying yes despite herself. They're only supposed to be playing a few improv games, but as the lessons run longer and the lines grow blurrier, Hollyn can't help but wonder if she's acting at all…or if a relationship with Jasper might help give her the confidence she needs to say yes to every imperfect part of herself.
The Daily Stoic: 366 Meditations on Wisdom, Perseverance, and the Art of Living– 5 stars
I would be remiss not to mention this, I read a passage from this amazing book every morning. Why have history's greatest minds—from George Washington to Frederick the Great to Ralph Waldo Emerson, along with today's top performers from Super Bowl-winning football coaches to CEOs and celebrities—embraced the wisdom of the ancient Stoics? Because they realize that the most valuable wisdom is timeless and that philosophy is for living a better life, not a classroom exercise.

The Daily Stoic

 offers 366 days of Stoic insights and exercises, featuring all-new translations from the Emperor Marcus Aurelius, the playwright Seneca, or slave-turned-philosopher Epictetus, as well as lesser-known luminaries like Zeno, Cleanthes, and Musonius Rufus. Every day of the year you'll find one of their pithy, powerful quotations, as well as historical anecdotes, provocative commentary, and a helpful glossary of Greek terms.By following these teachings over the course of a year (and, indeed, for years to come) you'll find the serenity, self-knowledge, and resilience you need to live well.
How has your reading month been? Anything noteworthy I should read? I love your recommendations!!
The post Everything I read in March 2023 appeared first on Sweetphi.