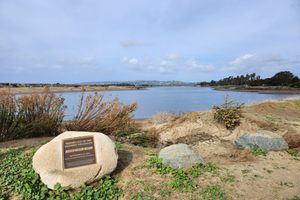 This unassuming island in Mission Bay was the site of the first triathlon in 1974. The idea itself was more of a happy accident than anything. In 1973, San Diego math teacher Jack Johnstone competed in a run-swim biathlon. He enjoyed it enough that he thought there should be more races like it across the country. He approached Bill Stock, the Chairman of the San Diego Track Club, with the idea of having a San Diego biathlon.
Don Shanahan, who wanted to have a run-bike biathlon, had also been in contact with Stock. Hoping to reduce the number of "weird" races popping up on the calendar, Stock urged the two men to combine their ideas. Though Johnstone did not own or ride a bike, he went for the idea anyways. Their combined event took place on September 25, 1974—the birthday of the modern triathlon.
The entry fee was $1, and it consisted of a three-mile run, five-mile bike ride, and a few assorted swims between parts of Mission Bay. It had just 46 entrants and was a lot more casual than most triathlons today. Entrants brought their own bikes, many of which were humble beach cruisers, and Johnstone had his 13-year-old son floating on a surfboard to act as a lifeguard. When it began to get dark, some entrants had yet to finish the events, so other participants pulled their cars up to the shore so their headlights could illuminate the course.
The triathlon went on to become one of the fastest-growing sports in the world and is now a major Olympic event. Notably, two entrants in this very first triathlon named Judy and John Collins would go on to establish the Iron Man Triathlon just a few years later in 1977. This simple stone monument was put in place in 2015, a little more than 40 years after the event.